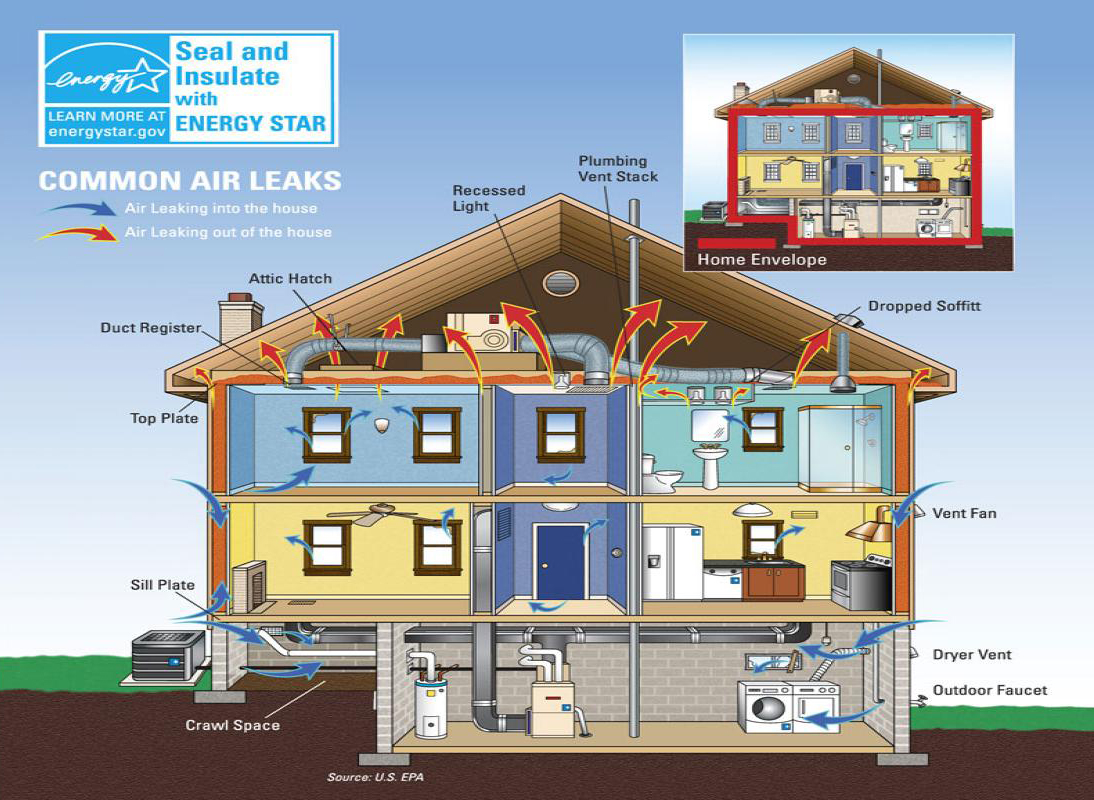 At Healthy Home™, we are Building Scientists. Based on proven scientific studies and measures, Insulation and Air sealing is the first step in transforming your house into an energy efficient home. Proper Insulation and Air Sealing can help solve the following issues:
Uncomfortable Rooms
Energy Waste and High Energy Bills
Ice Dams
Drafty areas and Frozen Pipes
Leaky Air Ducts
Poor Indoor Air Quality and Allergens
Rodent and Pest Invasion
Schedule your energy audit with Healthy Home™ to diagnose and treat these problems at their source.
Contrary to popular belief, window and door replacement is not the top priority in reducing energy costs. The most cost-effective way to make your Bedford, Somers or Westchester home more energy efficient is to carry out air sealing work and install high-performance insulation. Understanding your house as a system is paramount in selecting the appropriate solution for your home.
Thermal Envelope
The Thermal Envelope is quite simply the separation of conditioned and unconditioned space in your home. There are two main parts to the Thermal Envelope, the Thermal Boundary (Insulation) and Pressure Boundary (Air Barrier). These two boundaries should be aligned and continuous around your home. The Thermal and Pressure Boundary characteristics play a key function in your homes comfort, indoor air quality and energy efficiency.
A major cause of energy loss in your home is due to the Stack Effect. The photo above is an example of how the Stack Effect works. During the heating season, warm air inside your home rises up and escapes out through holes in the top of the building envelope. Any air that escapes out the top of your home, is replaced by an equal amount of cooler air drawn in through the bottom.
During the summer, the stack effect is reversed and as a result, any improvements made to your home's Thermal Envelope will result in year-round comfort and energy savings.
An energy audit is the only true way to obtain a full and accurate understanding of how your Thermal Envelope is performing.
Call Healthy Home™ to discuss your total home energy efficiency solutions!
Be comfortable and save energy the smart way.
Insulation and air sealing is the first step!
914-242-9733
What Our Customers Are Saying