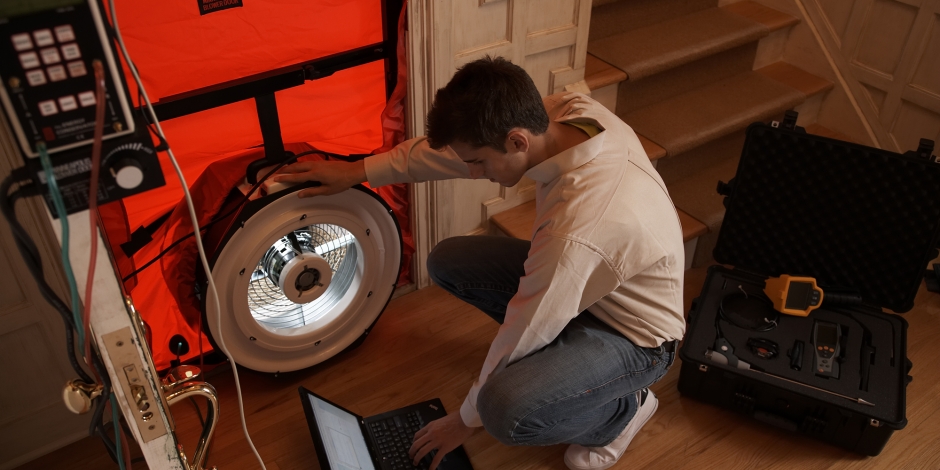 Many homes have air leakage problems. Your home in Bedford Hills, Somers or Croton-on-Hudson might be one of them. Our team can help you with home air loss testing if you experience:
Cold drafts and uneven temperatures in any room

Rooms that are difficult to heat and crazy heating or cooling bills

Mold growth, rotting roof sheathing, wet insulation or damaged siding

Bugs and rodents in your house

Dry inside air that leaves you with static electricity, creaky furniture, clingy laundry and dry throats and skin
Home Drafts Can Be Responsible for 30%-50% of the Energy Loss in Your Home
If your house has a problem with air leakage, you'll be uncomfortable. You'll feel the cold air leaking into your house due to window and door drafts, for example, but you won't be aware of the warm air leaking out of your house. That's a big problem for the structure of the house. The warm air escaping into your attic also carries a large amount of moisture with it, and can result in mold growth and rotting roofs over time.
Controlling air leakage is one of the most important functions of weatherization, and often the most difficult. Reducing air leakage is more than just saving money on energy bills, it is about protecting human health, increasing comfort, and preventing damage to your home. Older homes often allow in unconditioned air (infiltration) that contains moisture, odors, and particulate pollutants. Air infiltration contributes to drafts, uncomfortable temperatures, and high humidity levels. With a blower door, we can quantify airflow and the resulting heat (or cooling) loss, pinpoint specific leaks, and determine when a home needs additional mechanical ventilation. We are able to highlight these problems with the use of our infrared thermal imaging camera.
Another common problem for homeowners is indoor air quality. When there's a lot of air leakage in and out of your house, you're exposed to a lot of pollutants, dust and other allergens. When there's poor separation between your living space and your attached garage, your family is exposed to harmful byproducts of car exhaust.
Healthy Home™'s energy audit and follow-up services can help reduce all of these problems. We use performance-based air sealing to ensure that you get all the comfort and value you are expecting from a professional home performance company.
Blower Doors Pinpoint Problem Areas
A blower door uses a large fan to depressurize the house and calculate the airtightness of a home, at the same time detecting air leaks wherever they might occur in your house. Some of the typical places where drafts occur include:
Attic Floor Penetrations
Ceiling Recessed Light Fixtures
Baseboards
Attic Hatches
Air Ducts
Chimneys
Exhaust Vents
Whole House Fans
Window and Door Frames
Electrical and Plumbing Penetrations
Crawlspaces
Cantilevered Floor Overhangs
The good news? It's easy to cut air leakage dramatically. At Healthy Home™ Energy and Consulting, we're experts at drafty home solutions and will customize an air sealing and insulation upgrade package to make sure your home is both comfortable and cost-effective.
Stop wasting money on a drafty house!
Our draft testing services are here to help.
914-242-9733