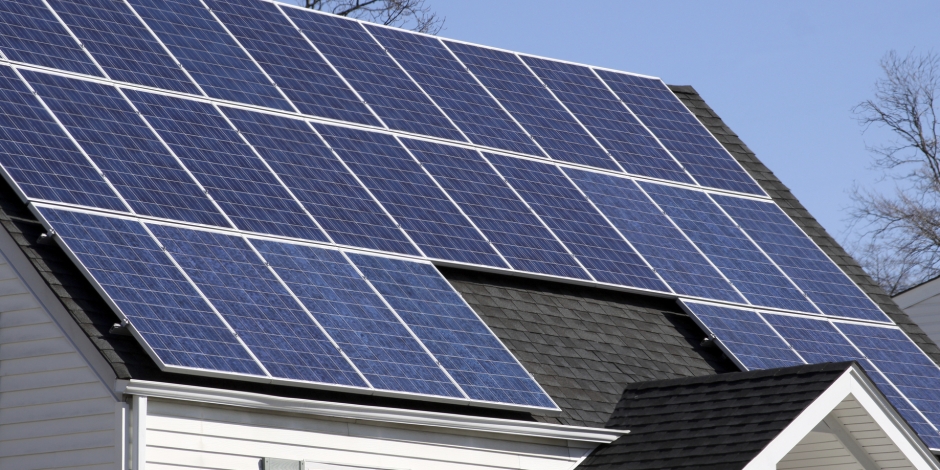 At Healthy Home™, we practice what we preach. We're believers in the power of renewable energy sources like the sun. Come by our Bedford Hills office and take a look at our 33,000 watt solar photovoltaic system.
We are committed to providing high-quality solar energy systems that are installed properly and professionally. That's why we're a NABCEP-certified Solar PV Installer.
Energy efficiency improvements along with home power generation through solar electricity is the ultimate way to reduce your carbon footprint.
Solar Energy is Clean Energy
Solar energy is non-polluting and abundant. Fossil fuels draw on finite resources, but renewable energy sources like the sun are nearly unlimited in their availability. When you own a grid-connected solar electric system, sunny days are money-making days!
What is a Photovoltaic System?
Photovoltaic (PV) systems consist of solar panels (made up of PV cells) that convert the sun's rays into free electricity. Panels for residential solar have a rated capacity of 250 to 320 Watts per panel. To make a system that can meet the energy needs of your house, an "array" of several panels is installed on your rooftop or in the landscape of your property.
Renewable Energy Systems Put Money Back in Your Wallet
Under New York's net metering policy, your electric meter essentially runs backwards and forwards. This allows the utility to account for the energy your house produces during sunny days as well as the energy that your house uses.
The excess energy produced by your residential PV array on a sunny day is fed into the local utility grid, supplying your neighbors with locally produced clean energy. And, you get a credit or a payment from the utility for the balance of the electricity you generated.
Make the most of your investment by combining energy efficiency improvements in your home with your solar electric system. A mini-split heat pump is a great match for a solar electric system when you are ready to upgrade your HVAC system.
At Healthy Home™ we subscribe to, "Reduce before Produce," meaning you should take action to reduce your home energy demand through energy efficiency improvements before having your solar electric system sized and installed.
Incentives Can Cover Up to 50% of System Cost!
Although they can save you money for a few decades, solar electric systems are not inexpensive to purchase. To counter the installation costs, there are tax credits and incentives available for homeowners.
In addition to the U.S. federal tax credits for home solar, there are also other state incentives and tax credits. In some cases (where the size of the array and location qualify) these incentives can cover up to 50% of the cost of the system!